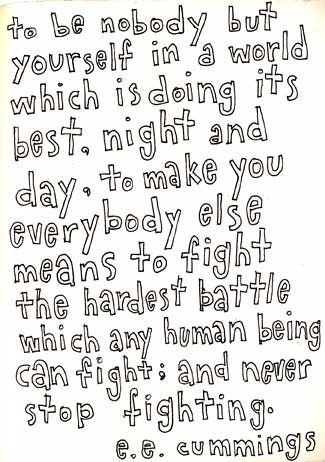 Who Am I?
One of the most important battles of my life has been to learn who I really am. It's unclear if the "obstacles" or challenges that I've faced are there to stop me, hinder me or to help me. Some, like my parent's alcoholism, shaped me forever. Some, like my college dean telling me I'd never graduate from college, served as inspiration, as fuel. When I was in the middle of these things, it was hard to know whether they were life-altering detours or just a bump in the road. At the time they happened, I was unaware of the power of they had to influence my life.
Where's the Map?
If only there were a map to show me exactly which way to go… but there isn't. And that is good, because if there were… many of us would just follow it, blindly. Even without that map, many of us look to other people for confirmation that we are 'okay.' Those who are brave enough to be true to themselves are often seen as outsiders. It takes a lot of confidence to be your true self. Every day people around us say they want what's best for us and oftentimes, they mean it. The problem is that they have a stake in our being the way they think we should be. They are usually unaware of this. So our job is to simultaneously understand ourselves, try not to let the ups and downs of life defeat us and fend off the desires of other people to define us. Phew! No wonder we're tired!
"Finding" Myself is a Myth
"In the phrase ["to find myself"] lurks the idea that the self is a pre-existing entity that can be located. But the self is never to be found.  It must be created… not the happy accident of passivity, but the product of a thousand actions, large and small, conscious or unconscious." Robert Penn Warren
I hope it's comforting to know that the "bad" things that happen to us, may actually serve us. When we're in the middle of it, of course, we can't see it. As a little time goes by, we may glimpse at the silver lining. With the benefit of time and self reflection (along with self compassion), we have the opportunity to see how the confusion, sadness, and pain are building blocks to our emerging self. I believe in you.
Image credit: 71 best eecummings images