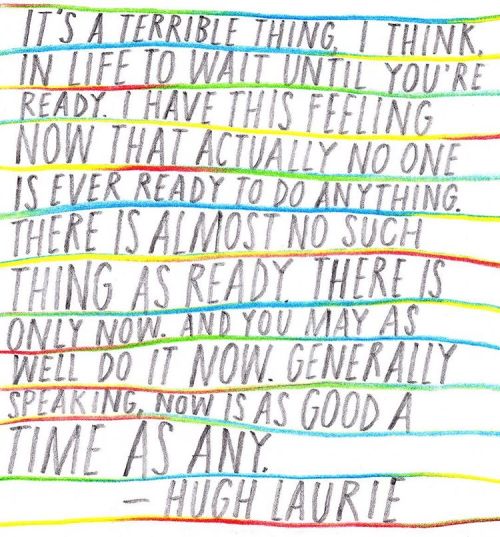 I need  to be 'ready'…
Any time in my life that I really grew or changed, I took a risk. When I was 20, I decided to take a trip to Europe. I worked 3 jobs, saved nearly $1,000 (a LOT of money in the 1970's) and bought my plane ticket. We hitchhiked, took trains, stayed in youth hostels for 4 months. I came home with 20 cents in my pocket. It was fun and hard and lonely and confusing and exhilarating. Back then we used traveler's checks and paper maps. We picked up our 'mail'  (often the only contact we had back to the US) at the local American Express office. So we were months without any contact with people back home. There was no way to ever get 'ready' for that experience and the profound ways it changed me as a person.
Once I start…
For me, getting the idea and then the getting started isn't the hard part. The hard part is when I'm there and I suddenly realize all the things I SHOULD have done to be prepared! Of course, the problem is that if I 'prepare' too well, then I think of all the reasons why I shouldn't do something. And then I don't.
There is only now…
What is it that you've been thinking about doing but your inner critic keeps telling you – you can't do. It may be a very quiet voice, wayyyy in the back of your mind. It maybe a loud voice that screams in your ear… YOU CAN'T!
The reality is that there is only now. If you need support, look for it in unexpected places. Your regular resources may have a stake in you staying the same because if you change, then they might have to change. And, as a rule, most of us don't want to and that's understandable. It's hard, but I hope you'll do it anyway. There are people making the leap everyday and they are getting inspired at When to Jump.
Believe in yourself and trust the universe will provide for you. Go.
Image credit: Franhurty