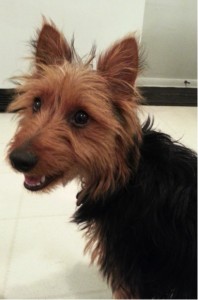 How do dogs spend their days?
– Eating, sleeping, sniffing, barking, chasing
We human beings can learn a few things from them. The eating and sleeping part we all get. But what about:
– Sniffing – this is the equivalent of learning, but hands on learning, not the… oh I went to college kind. The kind where you have to get right in there and possibly not be 'perfect.' This is where the real learning happens.
– Barking – this is the communicating part of the day. We all communicate in various ways, we whimper, we brag, we talk etc. But dogs don't gossip, they don't shame each other, (okay they may bully a bit but they do it for a survival reason.)
-Chasing – My dog watches the squirrels, chipmunks and birds out the window. She was bred to dig varmints out of holes so she's happy to let the critters be. But occasionally she finds something so compelling, she just has to chase it. Can you relate? I can.
One last thing. When the wind blows, instead of turning away, she puts her face right into it. The harder it blows, the longer she stands facing it. This inspires me: when the wind is blowing in my face, I work to stand firm, sniff and see what I can learn.