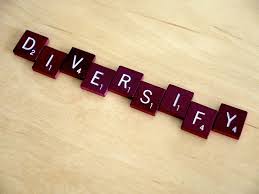 But I Like My Life The Way It Is
Some people love change. They're always creating, running around; they make the rest of us look boring. They need change in order to feel alive. Think of people you know who love to travel and meet new people. For them, the excitement of not knowing what the day will hold is great. Most of us, however, don't like change all that much. We like our routine. I eat the same thing for breakfast everyday so I don't have to think about it. I don't get bored with it, I love it.
Diversification is a Super Power
To be alive is to always be on the verge of change.  We don't have a choice. Sh*t happens. But we do have a choice of how we deal with it. We are told to diversify our money, but we are not told to diversify our lives. James Altucher, an interesting guy, created a chart called, how to diversify your life. He says, "The only way to survive, to get off the floor, to build, to have ideas, to create businesses, to have flourishing relationships is with diversification."
Pick a Place to Start
Here are a few places to start:
Diversify Ideas –  write down 10 ideas a day to exercise your "idea muscles."
Diversify the People You Meet (and Where You Meet Them) – Schedule meeting new people on your calendar, make a conscious effort to find people that are "different." If this seems like too much, diversify where you meet them. Go to meetups, take classes, travel.
Diversify What You Read – Do you get your news from the same sources every day? Try new ones. Ones you don't agree with. Practice keeping an open mind about why they hold a different view. Get books out of the library. Ask people what they are reading. "Just 20 pages a day equals 36 books a year."
None of this is easy, but I guarantee you will see unimaginable benefits from the effort. If you have children, think of the power of what you are modeling for them. The way to be happy and whole and able to adapt to change.
Image credit: SEO ppl