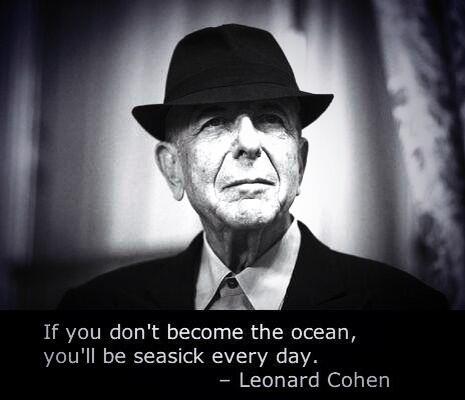 I visited (helped out) one of my children recently; they just had their first child. Watching your child with their child is one of life's great joys.  We are fortunate, mom and baby are doing well.
As I watch them learn about their new family member, I am impressed by their calmness. They are both exhausted and yet, they simply go with the flow. They don't fight against the exhaustion or the baby's crying; they just accept it. Together they figure out what to do and then they do it. If you were like them as a new parent, then you are probably thinking, what's the big deal? Well, I applaud you too.
For many of us, being in an overwhelming circumstance is … overwhelming. Small things become big things. Irritability takes over. For those of us with depression, this is, unfortunately, somewhat normal. We are not calm in the face of things we can't change. We fight, argue, moan, blame… everything but accept.
Leonard Cohen's quote struck me because when I think back on how many times I did not… "become the ocean," or surrender to/accept the circumstances, I realize that I could have (perhaps) saved myself some grief.  In those difficult days, the more I fought the ocean waves, the more 'seasick' I became.  After many years, I learned how to surrender with dignity and peace of mind.
One of my favorite sayings is, "When the student is ready, the teacher appears." Most of the time when I was lost, I thought I was my own teacher. I was wrong.
So if you find yourself in transition, if you are in the middle of a difficult time, I empathize. Ask yourself, am I fighting the waves? In the past when I have been 'seasick, it's because I didn't know how to do anything differently. I didn't know how to become the ocean. If you don't know how to become the ocean (and you're sick and tired of being seasick) ask for help. Start by asking one person. If they can't help, ask someone else and keep asking until you find, your teacher.
If you don't know Leonard Cohen, check him out. If you've never heard him sing this… you're in for a treat.
Photo credit: direct current