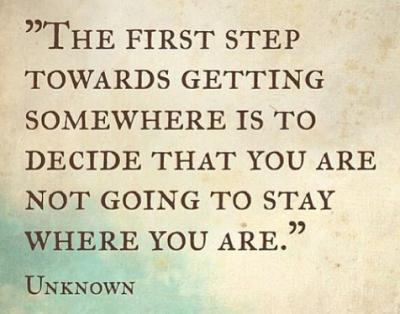 I Don't Like Where I Am
Let's say I'm confused and unsettled. I'm not unhappy necessarily, but I don't feel content with the direction I'm heading. I've tried lots of things to change my circumstances, but nothing seems to pull me out of the funk. What do I do?
But I Already Tried That

When I complain to my friends that I'm unhappy and they listen sympathetically, I appreciate it. When I'm alone and want to avoid thinking about my situation because it's too hard, that's being human. I want to change but I need ideas.  So I talk to people and when someone suggests  a possible step, I'll say…"I tried that already," "That's impossible," "You don't understand how complicated it is." What I call… "yes, but"… Yes you're right BUT I can't.
Why the First Step is So Hard
If leaping off a cliff was easy, everyone would do it. Starting a business, leaving home, going off to school, moving, switching jobs, changing relationships… all of these are like jumping off a cliff. Some people have big safety nets. Families that will take them back if they misstep, lovers who will forgive, bosses and teachers who cut us some slack, etc. But some of us have no net. Once we jump, we're on our own.
So it's no surprise then, that we hesitate, that we find excuses, we rationalize that things aren't that bad. Leaping without a net is for crazy people or risk takers or people with nothing to lose. But I'd like to suggest that we try another approach, net or no net. That we make a decision to take one small step towards something new.
Self Talk
This small step might be vowing to pay attention to the voices in my head. Do I play the same tape over and over? So and so did this to me… why did she say that? By listening to the voices, I come to understand where I support myself and where I abandon myself.
In my case, my self talk is almost always positive regarding my work. Every project is going to go well, my ideas are going to be appreciated, I'm a valued member of the team, etc. But when it comes to personal relationships, my self talk is very different. I feel awkward, unsure, tentative. My self talk questions my motives, my actions, my feelings.
I understand why this is, but feel powerless to change it. So, I'm trying to pay attention to what I say to myself and change negative to positive thoughts. I'll let you know how it's going.
Here's a resource to try if you're interested:  Self-Talk and Self-Compassion
Image credit: The First Step