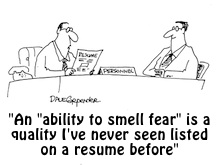 Yes to irreverent, NO to  idiotic.
When I saw this article, "Resume Blasphemy" I thought, how great! I love this idea.
Instead of listing… where you went to school and worked… the author suggests you write how you would do the job including:
"A clear picture of the business of the employer you want to work for.

Proof of your understanding of the problems and challenges the employer faces.

A plan describing how you would do the work the employer needs done.

An estimate of what/how much you think you could add to the bottom line."
Imagine you are the hiring manager and instead of skimming boring resumes, you get to read through descriptions of various approaches to the advertised job. This is at the heart of behavioral interviews but it goes farther because it requires the applicant to do all the work.
My suggestion… whether you send the irreverent resume or not… write it! Imagine how prepared you will be for that interview.
Photo Credit: How to…