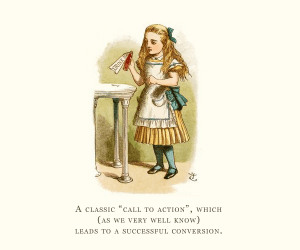 The world of marketing is full of musts.  You must tell the story, you must use a powerful image, blah, blah, blah.
Well, one must that many people ignore is the 'CALL TO ACTION'. Yes, that's right. Once a customer comes to your website, store, whatever… you need to tell them what you want them to do. Sounds pushy, maybe… but any good sales person will tell you that asking for the business is one of the most important parts of closing the sale.
Typical resumes do not include a call to action but why not? Do we make it a 'no-brainer' for someone to contact us, either by email or by phone? Do you put a QR code on your resume that leads to your website, blog, or a video of you describing your fabulous skills? Is your email link live? Are each of your company/organization links live?
Here's a very cool article on 10 effective ways to build web-based  'calls to action' that can really make a difference.
Remember, don't try harder, try different. Make your resume stand out.You can do it.
photo credit: Web Design tuts+