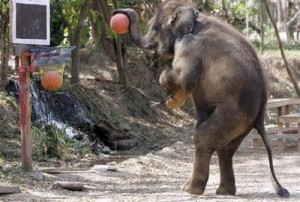 In the only question you need to ask in an interview we talked about asking questions. Now I'm encouraging you to think about how you answer questions and talk with your interviewer.  And I do mean talking with them.
In 25 Oddball Interview Questions, the author lists interesting interview questions from companies like Google, Goldman Sachs, AT&T, Facebook and Amazon.  These interviewers learned a lot from the responses to these off the wall queries.
You might think, no one is ever going to ask me, "How many traffic lights are in Manhattan?", but if you get asked an oddball question; will you be prepared with a creative answer? More than ever, organizations need people who can be flexible and think differently about problems.
If you're hiring manager and had, say,  3 candidates all of whom were equally qualified – how would you figure out which one to hire? You might try asking one of these questions to see how creative and spontaneous the interviewee can be.
So, how would you answer: "How many basketballs can you fit in this room?" Here are a few answers:
Probably the same number of soccer balls
One. You didn't ask what is the maximum number of basketballs you can fit in the room
Measure the room in basketballs. The room is 16 basketballs (length) by 12 basketballs (width) by 9 basketballs (height). Then it's just a simple volume multiplication.
My answer would have been, "Why do we want to bring basketballs into this room? Hmmm, what does that tell you about me?
Photo credit S-Fun.com (Solid Fun)