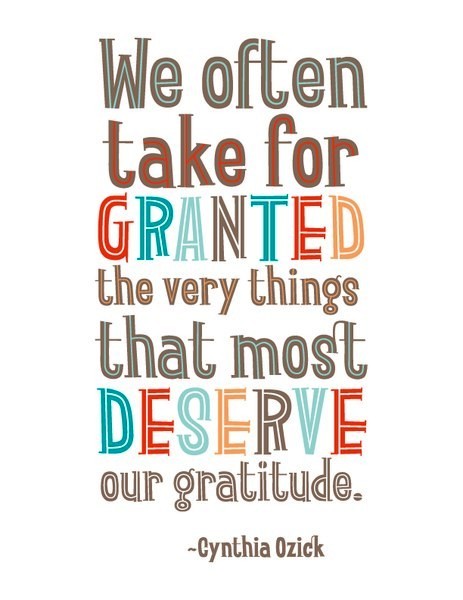 Gratitude vs. Taking For Granted

What I Expect…
At this time of the year, there's a lot of talk about being grateful, but sometimes we are so busy 'helping' others have nice holidays, that we forget what we really need to be grateful for. All the things we take for granted. I'm making a list of the things that people around the world are praying for, that I simply take as my due.
A day where my family and friends are safe. No guns or bombs. No government trying to push me out of my country.
A day where my loved ones and I have food, clothing and shelter.  In 2017, 814,000,000 (yes that's 814 million people) are undernourished. How many of them live in your town or city? Probably more than we'd care to think about.
A place to live with clean water to drink and heat.
The ability to see, smell, walk, talk, hear.
Clean air to breathe, clothes to wear, work, friends, entertainment.
When I Expect More Than That…
When these expectations are met, I am a lucky person. When I expect more than this, I am living a life of privilege. When I have the luxury of complaining about a parking space, the price of something, when I don't get my way, when I have to clean up after myself…
If I am complaining about these things (and so much more), I am slapping the face of all those who are living hand to mouth.
My hope is that in the coming year, that I think more often of how lucky and privileged I am. And what I can do to help those in my neighborhood/town/city,  who can't take these things for granted. Happy New Year. I am sending you my love.

Photo credit: Take For Granted