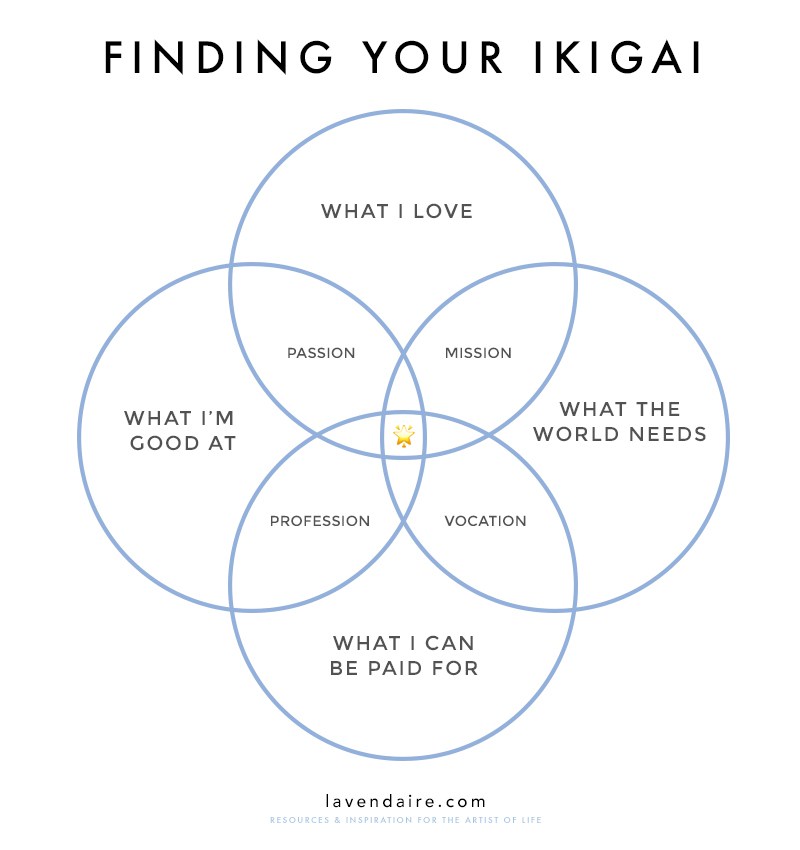 What is Ikigai?
Ikigai (Wikipedia) refers to the "source of value in one's life or the things that make one's life worthwhile.[1] The word roughly translates to the 'thing that you live for'[2] but it also has the nuance of 'the reason for which you wake up in the morning.'
This is a Japanese term for an almost universal human experience. If we have our base needs met (food, clothing, shelter, rest and safety – Maslow's hierarchy of needs), then we begin to look for meaning in our lives. We make art, we tell stories, we form connections. We long to understand the 'why' of our lives.
What is Missing from This Diagram?
I get what this diagram is trying to help me understand. If I can learn what I'm good at, what I love,  what the world needs and what I can get paid for – then I can, presumably, find a out why I'm on the planet and what I'm here to accomplish.
I get it, but I don't like it. It seems to be a very narrow view of how to find meaning.
What about what makes me laugh?
What makes me feel good?
What feeds my soul?
Those may fall under 'what I love' but if I'm unaware of what makes me laugh… I may not love it. If I am unaware of how to appreciate myself or how to have self-compassion… then I may not love it. It seems like a lot of living (and searching!) can be done with limited appreciation for that which feeds me.
My guess is that in Japanese, these concepts are covered, but the English translation falls short because (American English) has evolved from a logical, pragmatic, self-determination mind set.
The Cure for Too Much?

One other definition is, "Ikigai: the process of allowing the self's possibilities to blossom."
I want to bloom! Here's what I'm trying…
Laugh more.
Stop comparing myself to anyone.
Look for the good.
Stay away from toxins (people, places and things that diminish me)
Be gentle
Try more quiet
Get a hug from someone who loves me
Don't take any sh*t
I value you. Please share your ways of finding your meaning, your Ikigai.
Image credit: Lavendaire