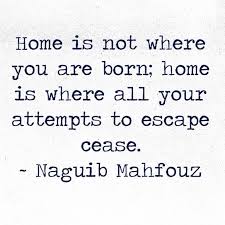 I Was Born Here, I Live There
I moved 10 times before the age of 17. I went to 3 different high schools in two different states. When people would ask me, "Where are you from?"… I used to want to cry. I didn't want to lie, but I didn't want to tell the truth. I felt like I was from nowhere. It didn't feel good. It seemed like everyone else had a home town. A place they knew, where people knew them, where they felt like they had an identity. I couldn't relate to that… at. all.
By the time I was 25, I had moved 30 times. In the past 18 months I have moved 3 times, in 3 different states. I've never lived in a place where I felt at home. And I never felt at home inside my own skin. I know I am not alone in this feeling.
Butterflies Are Free
If we use the analogy of the butterfly in the cocoon, we know that the butterfly must struggle to escape the chrysalis. Perhaps the same thing applies to me as I'm trying to find my home. Maybe the journey of living in a lot of places, meeting so many people, having no sense of a place where I belong, is an important part of my journey.
Maybe the only way for me to have real empathy for others is for me to struggle with my own sense of identity. Maybe I'm supposed to see myself as a citizen of the world, not a citizen of a place.
Home is Where I Stop Trying to Escape
It occurs to me that home might not be a place "outside" my body, maybe it's inside my body and mind (and heart). The only way I will stop trying to "escape" (find someplace to call home), is when I have peace of mind. When my body can be anywhere, but I am at ease because I know that I belong, no matter where I am.
I belong to myself. I belong to the world. I see home as a state of mind not a place.
I'm going to have to sit with this idea for a while. I'll let you know how it's going. Where is your home? Is it a place?
More thoughts from Naguib Mahfouz