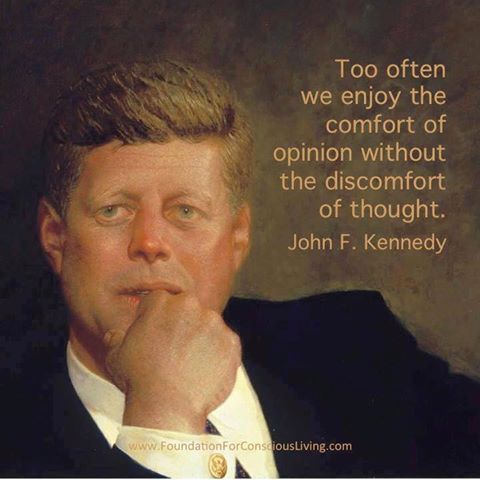 "Without the Discomfort of Thought"
If you are unfamiliar with the man in this drawing, it is John F. Kennedy, our 35th President. This quote struck me as important in the current political/media/social climate. It tells me that having an opinion also requires me to think about what I believe. To examine my beliefs. To make sure, they are based in reality, and in fact; that they are not just rooted in what is familiar. Here's the entire quote from a commencement speech:
"The great enemy of truth is very often not the lie–deliberate, contrived and dishonest–but the myth–persistent, persuasive and unrealistic. Too often we hold fast to the cliches of our forebears. We subject all facts to a prefabricated set of interpretations. We enjoy the comfort of opinion without the discomfort of thought."
The Internet Changes Everything
OK, you're saying… but how do I know if my opinions are grounded in a universal truth or just in "my truth?" This is especially challenging when each of us has… the Internet. We have access to so much of the world's knowledge and data, at our finger tips. Just 30 years ago, our main source of information was libraries, books, radio, television and newspapers. For those of us over 30… we have a context for understanding 'all the accumulated knowledge known to man.' We have the advantage of history, of experience and, if we're lucky…an education that opened our minds.
For people under 30, who have always known a world with the internet, it's challenging to absorb, sift, integrate and potentially challenge everything they read. How in the world can they be expected to do that? I find their ability to spot a phony, uncanny. They value authenticity above all AND they can ferret out our inconsistencies with surprising ease.
Now What
Here are a few suggestions for opening your mind. I'm interested in your ideas.
Get your information from multiple sources. Read/follow news sources you think you don't agree with. Keep an open mind. Work to understand the other point of view.
Work to meet people who are different than you. Race, economics, religion, anything that will give you a new way to look at the world. This is a gift you give yourself.
Help someone. If you're feeling lonely or lost… find a way to do something for someone else. It's really easy to find someone if you look around. You don't have to do any 'regular' volunteering… just find someone who needs to be listened to or just plain seen.
My hope is that we learn to listen to and have more respect for the young people of our planet. They have so much to teach us.
Image credit: Foundationforconsciousliving.com