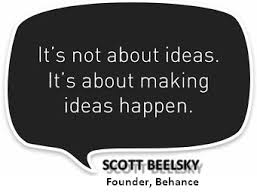 When I say your 'business' I mean whether you HAVE a business or whether you ARE the business. Today, being prepared for changes is what required.
I work with several entrepreneurs and meet with new ones regularly. It is such a joy because each one is excited about their business. They have energy and a hunger to learn and grow. It is infectious and wonderful.
Many of them, like me, have had plenty of ups and downs. In fact, most of them will experience more downturns that they believe they can stand! What separates a successful 'business owners' from the unsuccessful, is flexibility. The ability to pivot.
So how do each of us, whether we starting a business, reinventing ourselves or invigorating our career, take the "just do it" train?
Ideas are easy to come by, in fact, very easy. What's not easy is making that idea into a business (or career) that works. Here are some rules for navigating the terrain:
Build skills. In my corporate years, I looked for assignments that would allow me to learn new, specific skills.
Try on different roles. Find ways to test out various roles, tasks, assignments. Volunteer, talk to your boss, be specific about what you want.
Fail fast. This one sounds the worst. Most of us don't want to 'fail' at all. What we don't realize is that we learn the most from our failures. It is what propels us to do new and better. It is what helps us learn quickly and meaningfully.
Are  you excited about your work? Do you wake up ready to learn? If not, perhaps it's time to pivot.
Photo Credit: Empowering Startup