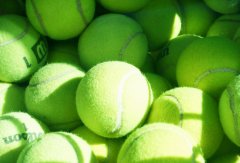 I recently gave a talk in front of a group of senior executives (older folk) who are 'in the hallway' (looking for work). I was talking about the collaborative economy and I made a reference to Porter's 5 forces model. Now, you may never have heard of this, no big deal. But for a group of people over 50 who made over $100,000 in their last corporate job; it surprised the heck out me that only one them had heard of it but couldn't accurately describe it.
Let's be clear, on any given day… there are 1,000's of things I don't know and this has nothing to do with Porter's paradigm specifically. My comment to them was, "good thing this isn't a job interview."
I work as a consultant so I go on a 'job interview' several times a month. As I'm networking, I never know who is going to be a connection to a gig.
Fuzzy Tennis Balls? This article, "13 Weirdest Interview Questions – 2014" offers us some of the oddest questions people were asked (submitted via Glassdoor). If you got this question in an interview, how would you answer? Maybe you're thinking to yourself, thank goodness I'm not looking for a job or I'm going to pray that I don't get a question like that. That's one approach.
How about this? What if you use these odd questions as a chance to stretch your mind? Just for exercise. Talk to someone about it over lunch. Ask your kids what they think. Have fun for crying out loud.
For those of you who are looking for work, old or young, remember the goal of these questions is for the interviewer to see how you think, how quick you are on your feet, what happens to you when faced with a (small) challenge. Do you stumble and stutter or do you let your creative juices flow? Creativity requires practice so I suggest you play games, answer silly questions, get out those crayons; maybe you'll get that job after all.