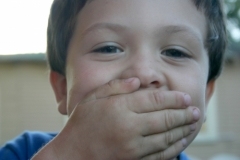 "The chief trick to making good mistakes is not to hide them – especially not from yourself. Instead of turning away in denial, … you should become a connoisseur of your own mistakes, turning them over in your mind as if they were works of art, which, in a way they are." Daniel Dennet
Many of us want to shrink when we make a mistake. We deny that we've made one or we hesitate to own our part. While it may seem easier to avoid 'consequences' – the truth is we (almost) always  feel the consequences one way or the other. For instance, if we avoid taking risks for fear of looking foolish – we deprive ourselves of opportunities to grow and learn. Not good.
If we take a big risk… e.g. wholeheartedly sponsor a big project at work… and it goes well; we might get that promotion. If it fails, we will suffer from the 'slings and arrows' of people's looks and possible gossip. But who learned? You did. While they were sitting back and judging you, you were out there talking, promoting, learning, growing and gaining visibility. Instead of hiding from your mistakes; what if you embraced them? what if you just say, "Wow, I made a mistake. I learned a lot and I won't make that mistake again." Imagine how confident you would seem and feel.
Billy Joel has a great line in his song… You're Only Human:
"You're not the only one who's made mistakes
But they're the only thing that you can truly call your own"
If mistakes are the only thing I can truly call my own, then I should make MORE not less. We encourage our small children to make mistakes and assure them that it's ok when they do. Then they get to be teens; we start to bear down on them — don't make mistakes!. As adults, we are mortified when it happens to us. Why? Because we are afraid to look anything less than perfect. We set a better example when we own our risks/mistakes.  We then have the satisfaction of knowing that we created something – all my own. Smile, it's just a mistake.
Photo credit: Hand over mouth Mel B.