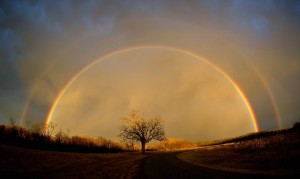 This pretty picture has nothing to do with fair pay… but it is an inspiring, life affirming photo. I want to inspire you to make sure you get what you want from your life. Not tomorrow, not next week, not next year. Today. It is, after all, all we have.
When I read this article about Whole Foods compensation structure — I was amazed and wondered why more companies don't follow suit. Here's the bottom line:
"Execs can't earn more than 19 times the company average, the co-founder gets $1 a year, and non-execs get 93% of company stock options. The result is 7% turnover — among the lowest in the industry. Says co-CEO Walter Robb: '[We] really make love to the company values.'" I would say they put their money where their mouth is. Most companies SAY that employees are their most valuable asset but how do they demonstrate it?
Not all of us can work for Whole Foods so what can we do?
1) Mean what we say and say what we mean. Be a person of integrity. You will never regret it.
2) Keep your skills current. When you do that, you give yourself the opportunity to change… jobs, organizations, fields, etc.
3) Pay it forward. The more aware you are of helping others achieve their goals, the better.
4) Be nice. Organizations look to hire people who can get along. Being nice never hurt anyone's career. Don't be a doormat but the most successful people I know are generally described by others as 'one of the nicest people I have ever met."
5) Work for yourself. You don't always make the most money this way… but you'll make sure you get your fair share!
Checkout these online salary resources:
My favorite is Glassdoor.com where employees post the real skinny on salary, work and culture. Also try salaryexpert.com, jobstar.org (links to over 300 professional salary surveys) and salary.com.  It's not all about money… but getting comparative data can give you strength in negotiating. By the way, if you don't ask for the money you deserve… you'll probably never get it.
Photo credit: mmtzjr69out  Double Bubble Rainbow