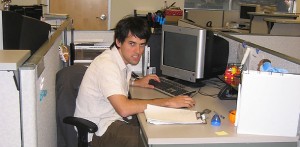 A 30-something is in the middle of a job interview. The hiring manager is excited about the young man sitting in front of him.
From the hiring manager's point of view, the interview is going very well. He has laid out the requirements, is satisfied that the candidate has good qualifications and equally as important, he seems to be a good fit for the group
The young man pauses and stops to think and then says,
"Thank you very much for your time today. I am very grateful but from my perspective this interview is over."
The hiring manager is completely taken aback. "What do you mean?
The candidate continues, "I like your company, but you just finished telling me how many long hours you work. I have no objection to long hours when they are needed to complete a project. You also just finished telling me about how you miss spending enough time with your family.  I am looking for a company whose leadership is committed to work/family balance. So while I appreciate your time, I think we are not a good fit."
Dumbfounded, the hiring manager said goodbye. Initially, he was furious. How dare that kid tell me anything about running a business. After discussing the event with a few others, he started to think seriously about the candidate's point of view.
There are a lot of reasons why the best and brightest may not want to work for you. Check out this article by (one of my favorites) David Meerman Scott called, "How to Build a Crappy Workforce."  Perhaps you're not scrambling for talent yet but you will be and if you think changing your culture now is difficult — imagine what it will be like when the economy is back full steam.
Image credit: Fast Company