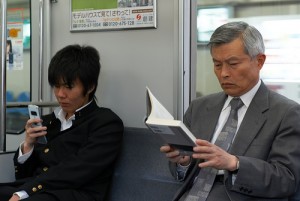 Stereotypes are not usually helpful. In some cases, however, examining our own attitudes about them may teach us some important lessons.
Executives teams often complain to me about their 20-something (Millenials- born between 1980 – 1995) employees.  They claim they are:
– Obsessed by their phones, lazy, distracted, self-absorbed and entitled
I don't happen to share those attitudes but I can see their point. I work with, teach and constantly learn from Millenials.  I find them hardworking, thoughtful and eager to learn.  Technology (phones etc.) are part of their DNA.
Here's what I hear from those Millenials about their Boomer (born 1946 through 1964) bosses. They say Boomers are:
– Rigid, rude (poor listeners), afraid of technology and unable to adapt to changing times
I don't happen to share those attitudes either, but I do see their point.  I suggest reading this article to learn more about the issues of the generations working together, "How Has the Recession Shaped Career Attitudes…"
My hope is that by having the generations share ideas and help each other, we can compete effectively not with other Americans, but with the global workforce.  I'm interested in your stories about effective cross-generational work environments.
Photo credit: http://www.flickr.com/photos/joi/455111587/ Notice in the photo that despite their differences; they are riding on the same train… heading in the same direction.