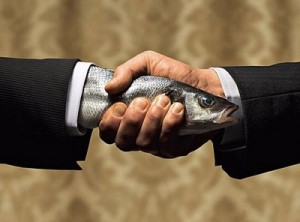 Last week I was speaking at a big event and had the pleasure of meeting many people. I was, however,  unhappily struck by the number of people who don't realize the negative impression of their fishy handshake.
What do I mean by a 'fishy' handshake? Well, when you offer just the fingers of your hand or when you fail to grasp the other person's hand and shake it with confidence; you run the risk of having people think you are weak. This especially goes for men shaking hands with women. It is disrespectful to barely shake hands with a woman. It makes them think that you don't think of them as equals.
You've probably heard the story about why we shake hands, i.e.,  to show that we have no weapons in our hands. Aside from the way we dress and eye contact, our handshake is another very important signal of our confidence.
When you shake hands, please, oh please I'm begging you, look the person in the eye and give them a gentle but firm handshake. This isn't a strength contest but it is a chance to make the other person sit up and take notice of your positive manner.  So ladies,  put your hand out there and shake firmly. Guys, do the same. it's so important!
Photo Credit: Ads of the World