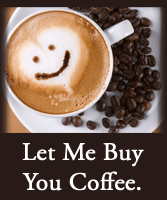 I enjoy meeting new people and helping them succeed. I understand the importance of networking and when I ask someone to meet me;  I offer to buy them a cup of coffee. Two dollars is a small investment to show someone that I appreciate their time.
I am grateful that I have the time and ability to volunteer and help as many people as I can.
When people ask to meet me, say they want to 'pick my brain' or ask me to make introductions to my contacts and don't even offer to buy me a cup of coffee; I take note. What kind of employee will this person make if they don't understand common courtesy?  I am taking this post to heart. I resolve to buy more coffees in 2011 to thank all those who help me.