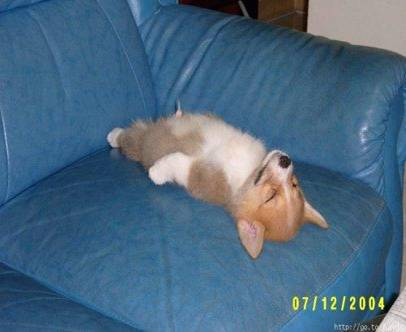 I regularly talk to groups about social media and there are still a surprising number of people who insist that Twitter is stupid. They know nothing about it, they've never used it, but they are certain it's useless. They are like this dog.  Asleep.
As I go through my talk, inevitably the most vocal opponent (the one who kept telling me how insightful they are and how stupid I am) sees the light and suddenly  wants my help. Hmmm…
Why are there so many jobs posted on Twitter?
— It's free, fast, easy, has an incredibly broad reach AND all those people who think social media  is stupid won't be looking there!
Back to the job hunt. Of those 500 job posts per minute, there are, of course, redundant jobs BUT… the question is… how can you use what's there to help you?
Using Hashtags to Boost Your Job Search is a terrific article on how to use Twitter effectively (Hashtag =# = keywords).  Hashtags such as #jobs, #jobadvice, #jobhunt and #jobsearch offer both job openings and general job search advice.  If you're looking for high-level information to help your job search,  start here.
Put the hashtag in the twitter search bar and up will pop articles (links) that may help you.  Geographic hashtag can narrow your search, #roc = Rochester, NY.  Also, there are hundreds of recruiters on twitter, Check out this resource. Follow the smart people on Twitter and you might be surprised how much you'll learn. Got  Twitter job search tips? Please share.