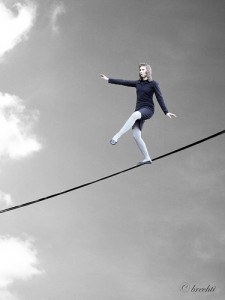 I recently started reading a new blog by Joshua Blankenship. The post that turned me on Whose You Do You Want To Be?
If you have talent, there will always be someone telling you how to use it. Talent is in short supply, and smart people always have a vision for how you should use yours.
It's a struggle to balance the need for earning a living and finding a satisfying way to use your talents. There are no courses in school for understanding your gifts and then figuring out how to best use them. Mostly, we tell kids to follow a career path and it's hard to argue with that. But that doesn't necessarily help them figure out how to be happy.
The tightrope is the journey to create the life you want. Please don't be afraid of what other people will say. If they have time to talk about you, they're not focusing on their own tightrope/happiness. They are likely too afraid to get up on the wire! How about thinking about your fulfillment goals instead your career goals.
When I was young, someone said to me, "be bold and great forces will come to your aid." I never forgot that.
You don't have to do something outrageous or outlandish to be true to yourself. But you probably have to bear the weight of people telling you that you're wrong. Be strong, look for allies and be yourself. There's no one like you in the whole world.
Inspiring and very entertaining video (also found in Joshua's blog). Thanks Josh!