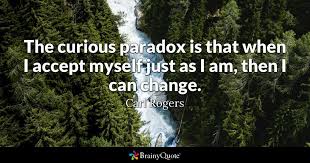 Five Steps to A Meaningful Life
Psychologist Carl Rogers gave us some wonderful ways to understand ourselves.  By simply outlining the path to self-understanding, we can begin to unravel the mystery of building a meaningful life.
Be open to new experiences
Live in the day
Trust your gut
Be creative and take risks
Seek new challenges
When I read this list, I think, hey, I can do those things. But then I stopped and really read the list. I'm pretty open to try new things, but if I'm completely honest with myself… living one day (this day!) at a time, is hard. My mind races with all the things I could have done or what I should be thinking about or doing tomorrow or next week or next year.
Living a life on your own terms is tough. We can debate whether it should be tough or not, but that is irrelevant. I hope we can agree that finding a path for one's life that deviates from the 'norm' is hard work. I've experienced people making fun of me or rejecting me because I chose to go my own way. Finding my way requires me to change. The way I think, feel and ultimately, act.
The hardest parts for me are:
having enough faith in myself to withstand the ups and downs
finding support from others who appreciate the journey
Acceptance of Myself is the Answer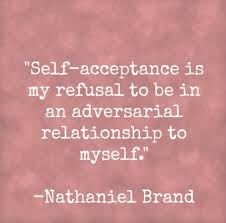 I'm finished with the arguments with myself about how I'm not good enough.  I accept myself exactly as I am.
I begin each day reminding myself that I have found my way through lots of adventures and will continue to be able to do that. I appreciate myself. Whatever negative feelings I am carrying, I  will remember that feelings do not last. The way I feel right now; I 'm not going to feel this way forever.
I'd like to show myself as much compassion as I do other people. I promise myself this, every single day. This self compassion is the key to being able to change. I want to change… even if I'm not sure how I should change, I still know that being flexible and accepting of myself are the way forward.
Image credit: Brainy Quote