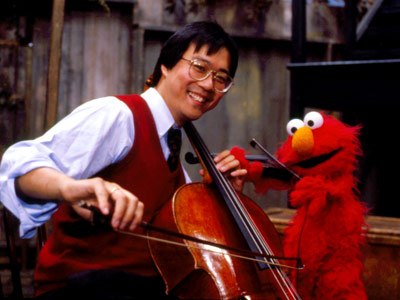 Meet Yo-Yo Ma
Maybe you already know him. He's not just a world famous cellist, he also calls himself a 'citizen' musician and a 'forensic musicologist.' Wow.
I like to think that I work on being a citizen of the world, that is…while I live in one country, I consider myself to be part of the human family first and foremost. Ma says, "citizen musicianship is "always looking at the bigger picture"… thinking about, "how we live in the world together."
His famous quote, "Music is what happens between the note"… is a foreign, baffling concept. How can music happen between notes?
Between the Notes?
My interpretation of what he is saying is that if you just play one note, then another… or if you take one action and then another… without any intention or understanding of the song, your day, your life… then the music may sound hollow. It doesn't come alive.  So too, can your life feel hollow, if there isn't a spark of energy or connection.
Listen to Your Favorite Music
Put on a style of music or a song that just makes your heart sing. Now imagine that you could play an instrument and knew how to play the notes to the song, but you didn't know how to make music. That's what an uncommitted life is like.
Between = Being Invisible
In an uncommitted life… I secretly hope that if I just go along and don't' make the connection to myself, then I can slip by. I can be invisible. Most people won't even notice me. I don't have to be exposed. But the truth is, people can see me whether I live fully or not!
In order to make music (not just play notes),  I need to work on what happens between the notes. I need to love boldly, learn constantly, look for the good… in myself and in the world.
Special Thanks
A special thanks for this idea goes to Krista Tippett and her wonderful podcast, "On Being". You can listen to the podcast here 
I highly recommend On Being… it's where I get life affirming support in these troubled times.
Image credit: Yo-Yo Ma – Muppett Wiki