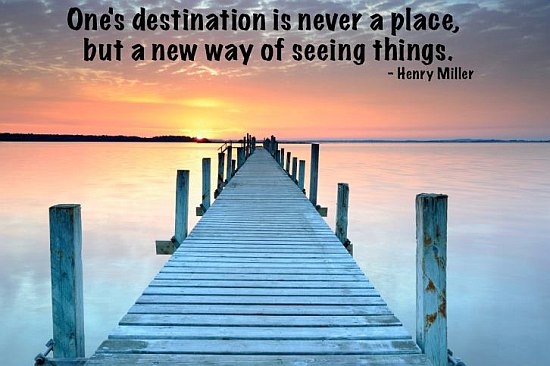 "One's destination is never a place but a new way of seeing things." Henry Miller
Where Am I Going?
Many people see life as a series of destinations. Go to school, get married, have kids… like items on a checklist, we move on to the next destination without thinking much about the alternatives. In fact, you might be thinking, there are alternatives? What are they?
Don't Go To "School" – I'm not recommending that people NOT go to school. What I'm suggesting is that we think about choices. If someone decides not to get a 'formal' education… do we think 'less' of them? Do we wonder about their intelligence? their ambition? Probably, because we are programmed to check off the items on the list. I have the good fortune to have relatives and friends who have formal educations and others that, for all kinds of reasons, chose not to. Both of these 'categories' of people in my life are the same. They love me, they teach me, they see me, they inspire me. Level of education doesn't factor into it.
Don't Get Married – This idea, fortunately, has changed since I was young. In my early years, an unmarried 40 year old woman (not a man) was see as an 'old maid', unlovable, broken, unattractive. Our culture is geared towards couples. If you are single woman… after a certain age, you are considered strange. In 1900, if you were 22 and unmarried you were lost forever, a spinster. (note that there is no male equivalent for this word.) In 2017, being a single woman is more acceptable, but we are still viewed less favorably than women in relationships.
Life as a Series of Lens Changes
Another way to look at life, is to think of it as a series of 'lens' changes – the way we see the world. The goal then becomes, seeing myself, other people, poverty, politics, my home town, my job, my friends… everything… in a new way. Imagine if you set the goal to re-evaluate your world view and all it's component parts every 5 years. Not, did I hit the societal norm milestone, but did I grow? Did I change? Do I understand my responsibility to the world in a new way? Have I worked to make the world a better place in my own way?
Some of us have this way of looking at the world pushed on us by circumstances. Some of us; the artists, the change makers, the thinkers, the poets, the philosophers… accept that this is how we'll live. Some of us are afraid to not be 'normal.' Afraid that we will be alone and lost.
Not everyone can be an artist. But everyone can shift their perception just a bit. Practice it. Make it a priority. Look for role models. Let me know how it goes.
Photo credit: Never a Place