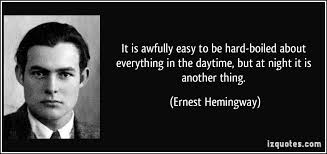 But…
I've come to realize that it's actually easier to be hard and cynical, than it is to be helpful and thoughtful. When I have a new idea, I've learned not to share it with many people because I know the kind of reaction I'm going to get, especially from those who don't like risk. They'll tell me it's a good idea but… The "but" always gets me. It's often accompanied with a wide array of 'reasons' why my idea will never work or why I shouldn't try something. No matter what I try or how hard I work… it's gonna flop.
This is what young people and dreamers face everyday.
Just Listen, Without Judgement
It's easy to be hard, to criticize, to put someone else down. It's hard to support, with your time and energy, people who are trying to take a risk. Listen to yourself when you talk to teens, young people and those trying something new. Do you offer to help? Do you listen and support unconditionally, without judgement? I encourage each of us to do this, not only for others, but also for and to ourselves.
It's easy to be hard on ourselves. It's easy to question, criticize and find fault, mostly because we think we know what we … coulda, shoulda, woulda done. Let's all lighten up on ourselves and others. Shut off the critical voice.  Show some compassion to everyone you meet. We all need it.
Image credit: It's Awfully Easy