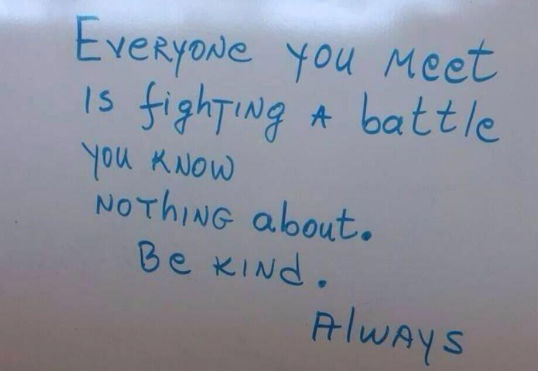 "Practice kindness all day, to everybody, and you will realize you're already in heaven now." Jack Kerouac
Why Kindness? Why Everyday?
I recently was surprised with a service award for volunteer work. I was mortified that they were recognizing me at their annual luncheon and I was caught off guard. (If they had told me they were going to do it, I would have said no so… it was the only way it would happen.) Despite my "self-conciousness," I was very grateful for their kind recognition of my effort.
When I was giving my (unexpected) acceptance speech, I heard myself say, "the first 40 years of my life were tough but the last 25 have been good." I didn't plan to say that, it's just what came out.
I think this explains why I remember so many kindnesses (large and small) that have been shown to me over the years. I hope it explains why I try so hard to be of service to others.  I know that many people I meet are in the middle of some difficulty. If I can show them a little kindness, a smile, just reach out and be human… maybe their day will be a little bit better. And maybe mine will too.
Intention
Kindness doesn't cost anything. It only takes the desire and intention to show as many people as possible, everyday, a small kindness. I suppose it's possible, that this is how the world gets changed.
Image credit: Begin the Beginning