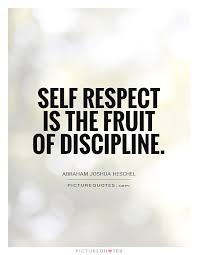 "The willingness to accept responsibility for one's own life — this is the source from which self-respect springs." Joan Didion Slouching Towards Bethlehem
But I Don't Want To…
I hate discipline. I mean, I like it and appreciate it and then again, I loathe it. Why do I have to do so many things I don't want to do? Dishes, listening, talking to strangers, doing my job? Why can't I just do what I want, right?
The Journey to Self Respect
Maybe I can get self respect from having stuff, maybe I can get it from other people's admiration of me (fame, money, position), maybe I can get it from ______ (fill in the blank). I can only speak for myself:  there is a direct line from discipline and self reliance to my self respect. There's a Billie Holiday song, "God Bless the Child (listen here)" with these lyrics;
Money, you've got lots of friends
They're crowding around your door
But when you're gone and spending ends
They don't come no more
Rich relations give crusts of bread and such
You can help yourself, but don't take too much
Mama may have, Papa may have
But God bless the child that's got his own, that's got his own
The Struggle Is Real…Really
Sometimes I think we've forgotten what it's really like to struggle. We have less money to spend on clothes or going out to eat so we're upset. But we are not Syrians or Southern Sudanese where bombs drop on our homes every day. Most of us don't want for food or shelter. In the most privileged country in the world, we still feel entitled to complain. This is not to take away from real problems and struggles of abuse, poverty, equality. We must fight to improve how we help and change the world.
People ask me how I raised my children to care about the world and not be materialistic. I hope I taught them to value experiences over things, to value a person and their dignity over, well, maybe anything. I have a long way to go in improving myself. I'm happy to report it's a life long journey. I'll let this serve as a reminder to myself to pay attention to my own ability to depend on myself and the joy and serenity that brings.
Image credit: Picture Quotes
Billie Holiday lyrics: God Bless The Child