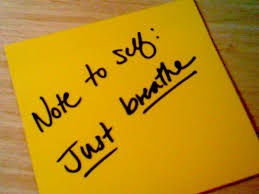 Everyday people tell me, you gotta try this. You'll LOVE this. Watch this, wear this, smell this, read this, blah blah blah.
I don't have to do anything except breathe. And you know, for a human being, I think I do a rather poor job of it. Check this out from the always wonderful Chris Brogan.
"I had a quick chat with the Universe. It was in a rush but it wanted me to share something important with you. 'You would do well to breathe deeper. In general. Take deeper breaths. In fact,' said the Universe, 'did you know that learning how to master slow, deep, controlled breaths is one way to master anxiety, fear, frustration, and many more feelings and emotions?'"
For today, you and I don't need to master anything. But what I can do is remember the joy and release from just breathing. So right now, wherever you are, stop everything.  Take a breath. Now take another. Just feel yourself breathing. Feels good doesn't it? I'm trying to figure out a way to remind myself several times a day. Got any hints?
Chris Brogan quote is from his weekly newsletter that he sends out on Sunday. You can subscribe here.
Photo credit: ellephysio