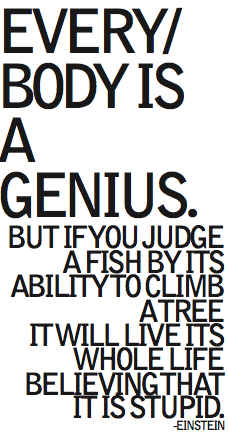 Why We Judge Others
Did you judge someone today? Maybe you're not even aware of it. It's a habit and way of thinking in modern society. Anytime we think we know what someone "should" do, we are judging. In the quote above, Einstein gives us an idea of how to check if we are being judgmental.
Judgement is a problem because it makes others feel "less than" and doesn't give room for live and let live.
There is a difference between stating your position and putting someone else down. My aunt Dorothy (b. 1899 d. 1998) taught me by example that judging people is not only a waste of time, but also, doesn't contribute to one's overall well being. Here's an example.
Don't Try Harder, Try Different
Let's talk about the rights of gay Americans. Whether you like it or believe it's 'natural' is beside the point. Let's talk about the right to carry a gun. Whether you like it or think its good for society is beside the point.
The point is to listen not judge. If I judge the person who is gay or who wants to carry a gun everywhere, then I miss the opportunity to grow, to see the world from someone else's point of view. I miss the opportunity to keep an open mind, to learn, to change, to adjust. I just dig my heels in and build walls. I judge that fish by it's ability to climb a tree. Not. relevant.
There Is No Grapefruit at the Hardware Store
You can't get grapefruit at the hardware store. If I am always mad when I leave the hardware store (for it's lack of ANY fruit) – whose fault is that?
The point is to find a balance between having an opinion/belief and being open minded enough to get along, go along and help make things better. The key word is compromise. Lighten up a little. Pay attention to when you "judge". What are you afraid of that makes you dig your heels in?
Image credit: You're a genius all the time.