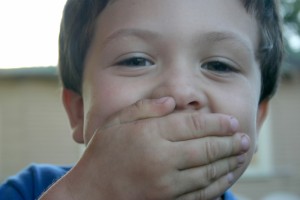 Ok, these may not be deadly but they can slow down your search. Take care of these and your search will go smoothly because you'll be building relationships and learning during your entire search.
You may not want to address these issues… but you'll be glad you did.
I borrowed some of these from 7 Deadly Sales Sins.
1. You don't know who you are so you can't concisely tell others. Seems simple enough but trust me, if it's been a while since you've looked for a job… you probably don't know yourself as well as you need to. Look into those dark corners, root out your foibles and shortcomings and learn to say great things about yourself and your capabilities.
2. You don't know what you want. If you don't know where you're going; any road will take you there. How can others help you if you don't know what you need or want. I know it's easier to define what you don't want. Start there.
3. You don't know how to easily help others (or worse you don't understand why it's important.) Being of service, listening, making referrals, introducing like-minded folks, etc. it's not hard but you do have to stop thinking about yourself long enough to consider what to do.
4. You don't understand what recruiters, hiring managers or human resource people need. If you put yourself in their shoes for a minute, you'll be much more effective at getting their attention.
5. You're afraid. We all are, you are not alone. Some of us just "fake it 'til we make it." Take a page from that book.
6. You stay in your house and tell people you can't network because you're: shy, introverted, technical, a geek, blah, blah, blah. Get over it. Most of us don't want to meet a bunch of strangers, but we do it.
7. You don't follow up. You know, thank you notes you talk yourself out of.
8. You don't have a process for your search. Do you have a spreadsheet of your contacts, companies and connections? Do you have a plan to meet 7-10 new people a week? Do you have a job search 'buddy' who can help you? Are you learning new skills?
9. You don't ask for the job or you ask for every job. Be clear about what you want, who you are and when the time is right, be sure to be clear that you believe this is the job for you and why.
Bonus: You don't have a complete LinkedIn profile with at least 200 contacts. sigh… what are you waiting for?
I believe in you. Go!
Photo Credit: MelB Handovermouth