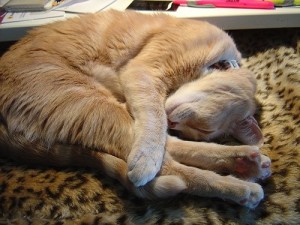 For those of us who have a 'good' job; one that we've been in for several years – we're probably feeling a combination of smugness – "well, I haven't had to go through all that so I must be really good" and relief – "thank goodness I haven't had to look for a new job, interview, network, change."
If you are thinking, no, no – that's not true, I know I how lucky I am. Really?
Whether you have a job or are looking for one… attitude is everything. An honest appraisal of ourselves is required for growth of any kind. There's a fine line between self-acceptance (I'm OK the way I am) and denial (deep down I know I need to change but it's too hard so I'm going to just stay the way I am.)
In a terrific short read, "Are You Too Comfortable to Grow? ", the author describes how comfort limits our ability to stretch.  How many times a day do think, "this is so hard?" The harder the challenges, the more we grow.
Photo credit: Irreverant