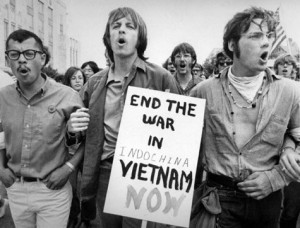 This is what I heard in 1969 when I sat with 150 other young people outside a public building to protest the war in Vietnam. My friends and loved ones were fighting and I felt I had to take action.
Whether I was right or wrong in my beliefs; I was speaking up. It was scary but  I felt it was important.
Today's younger generation, Gen Y (aka Millenials b. 1980-2000) is also taking it to the streets. In the form of  The Occupy movement. The press criticizes them for:
– not having a clear agenda
– not really knowing what they want
– being lazy and protesting as a way to get out of work
When I saw this last minute prep list for today's May Day protests, I thought about 1969 and what it would have been like to have websites to help prepare us and cell phones to take photos of abuses and communicate with friends. Some of this sounded very familiar…
– Know your rights: The ACLU has some good basic info on your legal right to protest here
Other items are heartening:
– Know how to identify legal observers: Observers from the National Lawyers Guild will be on the ground throughout the day.
You may or may not agree but they are speaking up. They are not lazy or self absorbed — they are fighting for their future.
Photo Credit: RedhatRob.com