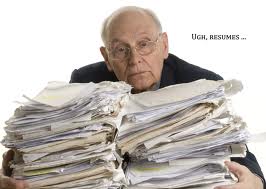 Have you ever been on the hiring side of a resume? It's not fun.
You often feel like this guy. Overwhelmed by 'paper' and buzzwords that don't tell you anything.
Before you spend more time and get more opinions about your resume, check out this article, "How Recruiters See Your Resume…" Take a look at the heat map associated with this article.
It tells us that the more structured your resume, the easier it is for those 6 seconds to be productive and get you into the consideration pile vs. the no way pile.
The goal of the resume is to… wait for it… get you an interview! Be sure to think of it that way. It's not to document your entire work history.
By the way, how's your Linked In profile? Do you have 300 connections? Do you belong to several groups? Have you uploaded your PowerPoint presentations? Do you answer questions? Make sure you include a live link to your Linked In profile from your resume.
Now go forth and streamline that resume!
Image credit: Career Insider