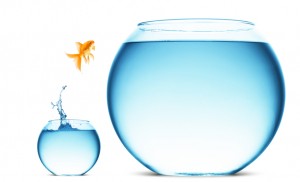 "If you don't risk anything, you risk even more…"  Erica Jong
Last week I made a presentation to the Western NY chapter of the Product Development Management Association (PDMA)  on how Social Media is radically changing the world of product development.  I have been working on the ideas for this presentation and getting to know people in the group for nearly a year. When the time came for me to make this presentation, I believed I had something valuable to share.
But some little part of me thought, uh oh. What if they disagree? What if the material isn't interesting? These are just my thoughts and ideas; maybe I'm wrong. In other words, I knew I was taking a risk and suddenly the reality of the risk hit home.  A few minutes later, I pushed these thoughts from my mind, knew that I was well prepared and then hoped for the best. You'll be glad to know that everything went well.
In my mind, if I'm not taking a fair number of risks in my professional life, then I'm not learning and growing. The important thing is to take calculated risks; ones that I know from experience,  have a fairly high probability of turning out in my favor. Years ago I heard this quote and decided that I would embrace the philosophy…"The best way to cope with change is to create it."
And here's another very interesting way to look at it… "If you don't like change, you're going to like irrelevancy even less." General Eric Shinseki, Chief of Staff, U.S. Army
Photo credit: http://www.jinxiboo.com/blog/tag/risks